School Of Public Health
Hits: 10155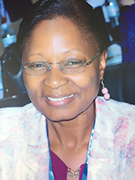 Prof. Mabel Nangami
Dean School Of Public Health
This email address is being protected from spambots. You need JavaScript enabled to view it.
Vision
The vision of the School is to become a regional and international centre of excellence in the training, research, practice and consultancy in Public Health.
Mission
To promote improvements of health of the people of Kenya.
Introduction
The School of Public Health (SPH) was established in 1989 in recognition of the need for training high level manpower in Public Health. The training programmes of the School have been developed to meet the university's mission of producing skilled and practical health professionals who will contribute towards the realization of the country's national Public health goals. The school seeks to provide advanced and interdisciplinary training for a range of health personnel, including policy makers, medical practitioners, academicians and researchers. The school endeavours to take a leading role in the training of public health personnel locally and globally. It seeks to effectively address Public health problems in the region, with due consideration of the diverse social, economic, political and biological environments. The school offers academic programmes which aim at producing graduates who will approach environmental and Public Health issues with a holistic global perspective and with ability to critically analyze problems with a view to integrating theory and practice in the assessment and provision of preventive and promotive healthcare. The curricular offered entail training students who will understand and practice public health as a profession and thus enhance the health of the individual, family and community. It encourages the student to acquire the important skills of self – directed learning, problem – solving and effective communication.
Providence Kiptoo
School Coordinator
This email address is being protected from spambots. You need JavaScript enabled to view it.
Objectives
Our Objective are:
To provide postgraduate training, short courses and workshops in various public health disciplines with emphasis on preventive and promotive health services.
To enhance the capacity for research, and carry out research in priority health problems.
To provide service and professional advice to the government, communities and varied clients on public health issues.
To collaborate with the Ministry of Health, national and international institutions, organizations and international agencies for the purpose of training, research and offering services in public health.
To bid for, and undertake consultancy contracts.